What better way to celebrate the Holidays than with a snowmobile tour on a spectacular 6,000-acre private ranch near Vail, Colorado? Seriously. Kick your Christmas plans up a notch and join us for a memorable experience on the snow!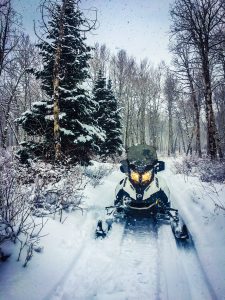 Our private mountain is home to more than 100 miles of trails and stunning views that overlook the Vail Valley. Feel the wind in your face as you gain speed through the open flats of sage and mountain mahogany. Soak in the Rocky Mountain backcountry while winding your way through old-growth stands of aspen and spruce. The snowmobiling experience here is unforgettable.
We offer two-hour guided tours with three start times each day. And pickup is free from your hotel. That leaves plenty of time for your other Holiday commitments. It makes a perfect group event and our experienced guides will make sure that everyone has a great time. Don't forget to ask for our 10% group discount when you book 10 or more snowmobiles.
For details and to book your Colorado snowmobile adventure, check out our Snowmobile Trips Page or call us at 970-476-3700. See you on the mountain!