Many ski lifts across Colorado will make their final rotations of the season this weekend. But while the ski season is coming to an end, there's plenty to do to stay busy! We've also closed our snowmobile tours for the season. And with a few weeks until our rafting trips begin, you can be sure the Crew here at Sage will be enjoying some time off!
This time of year, there are still plenty of ways to enjoy the snow in the high country. Especially with the amount of snow we've had this year, backcountry skiing and snowmobiling opportunities will be excellent this spring. There are also plenty of places to get out and enjoy the spring sunshine on a pair of snowshoes or cross-country skis.
For the climbing enthusiasts, the hefty snowpack this season will allow for some outstanding routes on some of Colorado's 14,000-foot peaks. This will be a great season for 14ers, with some perfect ski or glissade descents.
If you're looking for things to do that don't involve snow, there are plenty of options. Most hiking trails at lower elevations are have opened up. This is a great time of year to visit Colorado's red desert country. Colorado National Monument and Dinosaur National Monument provide ideal spring hiking conditions.
Not far away, national parks in Utah and Arizona are also great spring destinations. In fact, the Sage rafting team is taking a trip to raft the Salt River in Arizona before heading to the National Championships in May! Stay tuned for updates and photos from both of those trips.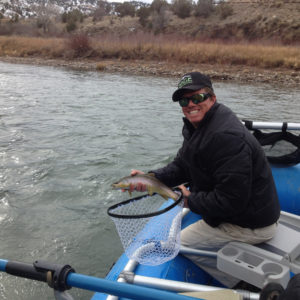 Finally, anglers have been enjoying an excellent spring fishing season. The pre-runoff conditions this year have been great. Many waters around the state have been fishing very well. As runoff begins to take hold, these conditions will change rapidly. But even during peak runoff there are always plenty of places to hook into beautiful, wild trout.
We are very excited for our summer season to begin! We're looking forward to some great rafting, horseback riding, ATV tours, sporting clays and fly fishing adventures! But until our summer activities pick up next month, you can bet we will be out enjoying the best of spring in Colorado!