Rafting
No matter what river you decide to raft, what class rapids you ride, or how long your trip, the sights, sounds, smells, and emotions from that experience will cling to your memory forever. Colorado boasts some of the world's finest whitewater. Sage offers guided raft trips on many wild rivers nestled deep in the rugged Rocky Mountains, such as the Arkansas, Eagle, Colorado, and more. To us, the river is plenty more than a recreational mogul, the river runs in our blood. This is our lifestyle. Come out with our fervent guides and allow yourself to spend this day simply messing around in boats!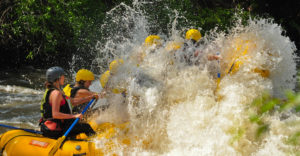 *Sage Outdoor Adventures is operating under special use permits by the White River National Forest, Bureau of Land Management, and Colorado Parks and Wildlife. Sage Outdoor Adventures is an equal opportunity service provider.
 SAGE CUSTOMERS, HERE ARE YOUR RAFTING PHOTOS!