Discover Our Private Mountain Base at Castle Peak
Why a Private Mountain Experience Better Is Better
Customer Service
When we control everything about the trip, with nobody else around to deal with or worry about, we can produce the best trip in the world. Exclusivity is sought out for a reason. Total customer focus is what we are all about. You can compare this to a private country club golf course, only, you don't need a super expensive membership, just a reservation for adventure.
No Permit Stipulations or Regulations
Since we do not operate on Forest Service or BLM land for our adventures, we can take (and make) the trail we choose. True freedom in playing in the mountains. All other companies in the area are bound by government permit restrictions that restrict their riding to roads and small play areas. Their overall rideable acreage is a fraction of ours.
No Public Interface
Don't fight the crowds, go where there are none! We don't ride in public areas and compete for real estate like the other outfitters. The only machines on our trails are our guides leading our guests.
True Loop Trails
Out and back on the same trail is long gone. See more terrain and variety. Plain and simple, ride better trails. Check out the extent of the trail system on the trail map below.
No Porta-Potties and Construction Trailer Check-In
Sage's log cabin is a hangout on its own. It's perched in a high hidden valley by Castle Peak with grand views of the Sawatch Mountain Range, not to mention 3 Woodburning stoves, Mens and Womens modern restrooms, TV's, WiFi, Canvas lunch tent, and a 5000 square foot deck. Begin and end your trip in comfort, relax and take a load off. Once you sit on the deck you'll never want to leave.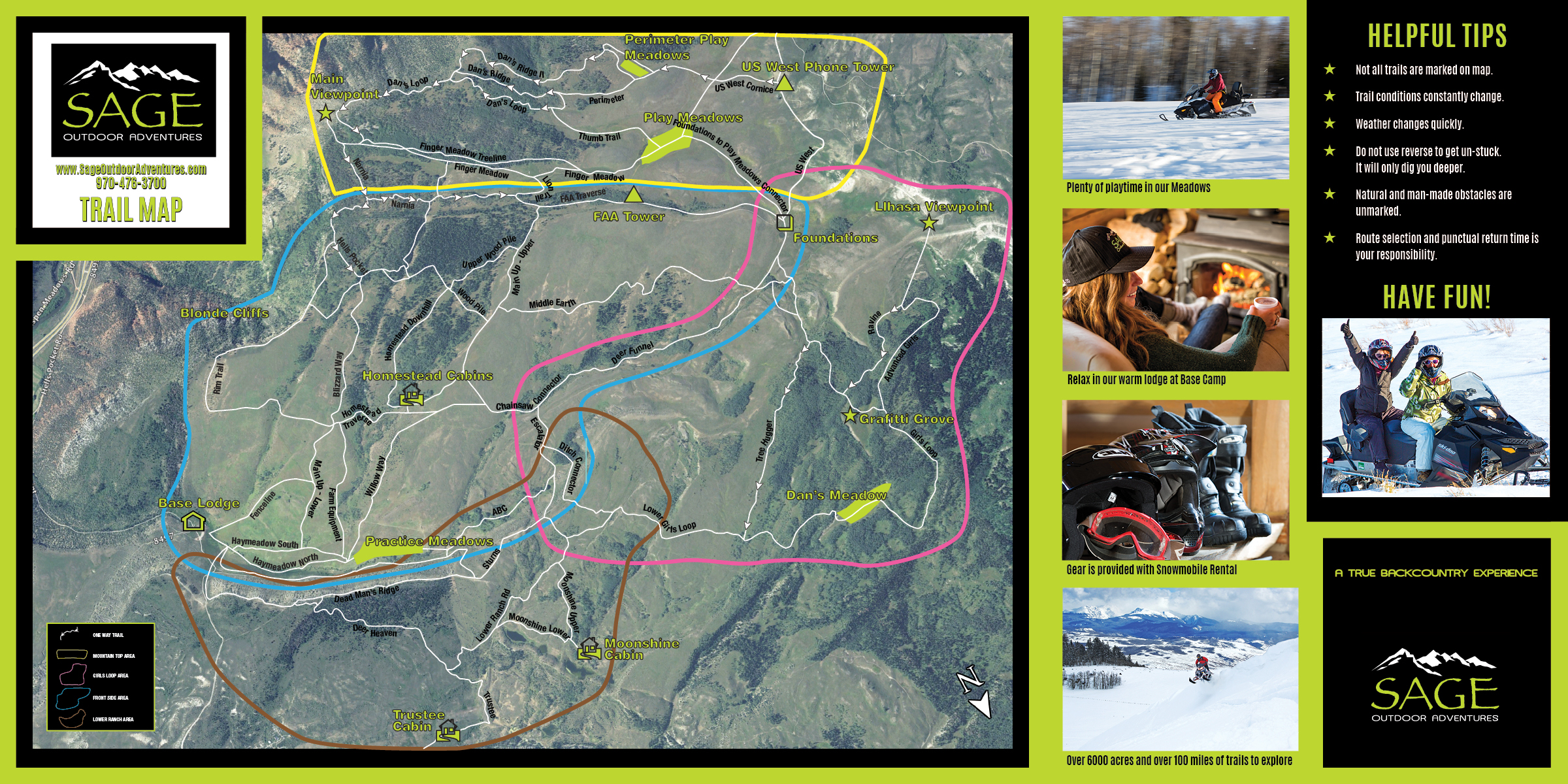 Click on maps to enlarge!