Valentine's Day is around the corner and this is your friendly reminder to plan something memorable for your loved one! Whether you buy into the commercial hype or not, everyone likes to be thought of. And what better way to let your boyfriend, girlfriend, spouse or fiancé know that you're thinking of them, than to plan a scenic, mountain snowmobile ride?
The snow conditions are incredible here on our private mountain ranch near Vail, Colorado. Skip the lift likes and sweep your valentine away into the beauty of the backcountry. Enjoy 6,000 acres of private mountain terrain, hundreds of miles of trails and comfortable, quiet new snowmobiles. Our tours provide an idyllic mountain experience with some of the best views overlooking the entire Vail Valley, across Avon, Beaver Creek and Eagle.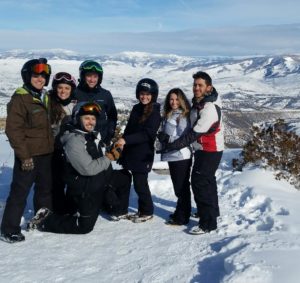 Not to add any pressure, but last month we witnessed one of our guests proposing to his girlfriend atop a picturesque lookout. No pressure, guys!
But in all seriousness, we do work our best to make these rides a very memorable and impactful experience not just for couples, but also for families and groups of friends. Nestled in a beautiful spot on one of the largest and most historic ranches in the valley, we are very proud to offer such a unique mountain experience.
We offer free hotel pickup and in less than 30 minutes you'll be at our base of operations on the ranch, with a cozy check-in cabin, equipment room and a 5,000 square foot deck.
For more information on our snowmobile tours, please explore our Snowmobiling Page. To book your trip or to inquire about availability, please call us at 970-476-3700. We look forward to seeing you here on the ranch!