THE VAIL VALLEY'S ULTIMATE FLY FISHING ADVENTURES
Here in the Vail Valley we are very fortunate. Our location gives us quick access to some of the best fly fishing in Colorado. Right out our back door, we've got waters like the Eagle River, the Colorado River, Gore Creek, the Arkansas River and an abundance of small stream, wilderness fishing opportunities.
Whether you're a veteran angler that's new to the Vail Valley, or you've never picked up a fly rod in your life and are on the hunt for fly fishing trips for beginners in Colorado, our experienced guides will do more than just put you on fish. They will help you learn the sport. You'll walk away with a newfound confidence in fly fishing – and hopefully having put some fish in the net!
The variety of fishing around the Vail and Beaver Creek area is simply outstanding. You can be on the mighty Colorado River, throwing streamers to brown and rainbow trout from a drift boat. Or you could be sneaking up on wild, native cutthroat trout while wading along a small, peaceful stream. From one end of the spectrum to the other, the angling opportunities here are epic.
Here at Sage Outdoor Adventures, we offer half-day wade trips and half-day float trips. We can talk you through the different options and help you plan a fly fishing trip that's perfect for you. With so many excellent trout waters surrounding the Vail Valley, this is a great way to begin getting to know them.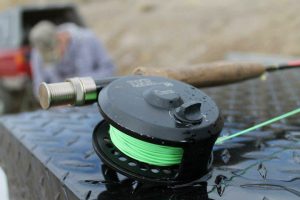 Sage, like all other fly fishing outfitters in the Vail Valley, practices strict catch-and-release fishing. These are high quality trout streams for very good reason and we enjoy playing a part in those conservation efforts. And did you know, that your Colorado fishing license also supports Colorado's wild fish and river conservation efforts? We all play a part in supporting – and enjoying – these spectacular places.
If you'd like to learn more about our guided fly fishing trips, please explore our Fly Fishing Page. If you'd like details or to check availability, please contact us online or call us at 970-476-3700.