If you've been on guided rafting trips before, you may have noticed different raft setups. Some have oars mounted in the center. Others place the guide on oars in the back. And some rafts are paddle boats with no oars at all. Have you ever wondered, what are the reasons for using a particular type of boat? Do each have advantages or disadvantages?
We recently spoke with Sage owner and director of operations, Cole Bangert for his thoughts on raft setups. Here's a quick overview of the different types of rafts and why we use them.
First, consider the raft with a center-mount frame. According to Cole, these types of rafts are extremely agile, since the pivot point of the raft is in the center. You'll most often see this type of setup on overnight camp floats for their ability to navigate big rapids or techy rapids with loads of evenly loaded gear for good weight distribution.
Next, there's the stern-mounted frame and oars. This makes a great "paddle assist" setup, where the guide rows and calls commands to a paddle crew.
"The paddle crew and guide work together to move the boat," Cole said. "This is ideal for commercial outfitters. The guide can do most of the work but guests are still heavily involved. It's a great setup for family trips with younger kids, as guide has ability to move the boat without much power from guests."
You have probably seen a paddle boat with no oars. This is the way you see most commercial trips structured. This heavily involves the customers, as they must come together as a team to move the raft efficiently.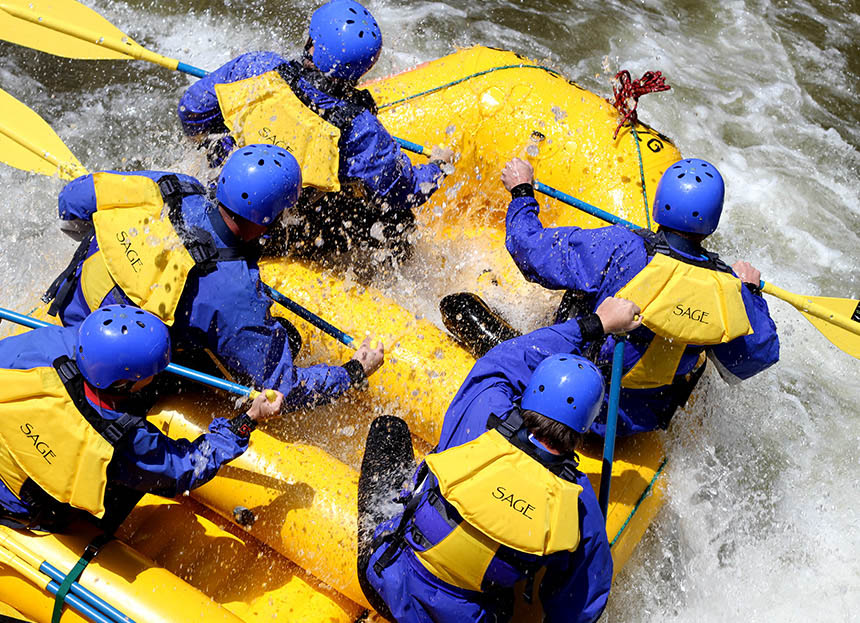 "The guide and guest have to create a trust factor," Cole told us. "The guide usually could not navigate certain whitewater without the performance of his paddle crew, and the paddle crew must trust that the guide knows how to command the boat. This is fun for the guide and guest alike. There is a lot of teaching and learning."
Sage uses a mixture of boats, but primarily SOTAR and Hyside. SOTAR and Sage teamed up to produce what many call "the sexiest raft I've seen on the water" for the past couple years. Not only are the colors custom to match the Sage logo, its also a custom design of boat, built specifically for maximizing performance and fun.
"These custom rafts are 13.5 feet long and they track well, meaning they move in the direction you point the boat amid heavy waves and currents," Cole commented. "They are balanced and stable with the 19-inch tube diameter, which is slightly larger than a standard 13-foot raft. The tubes diminish from 19 inches to 15 inches on the tip of the bow and stern to enable the raft to "punch" through big waves without getting stalled out."
SOTAR also used a high-end material on our custom rafts that, when inflated, turns very stiff. This is crucial to have in hard whitewater. It makes the boat more predictable, faster, and stable for the paddlers. 
"The height of the bow is also custom," Cole concluded. "We set it to have a good mixture of speed, anti-deflection, and wetness…because cause lets face it, when waves cover the raft, it's the best feeling ever!"
For more information on rafting trips near Vail and Beaver Creek with Sage Outdoor Adventures, please visit our Rafting Page. To book your trip, call us now at 970-476-3700.